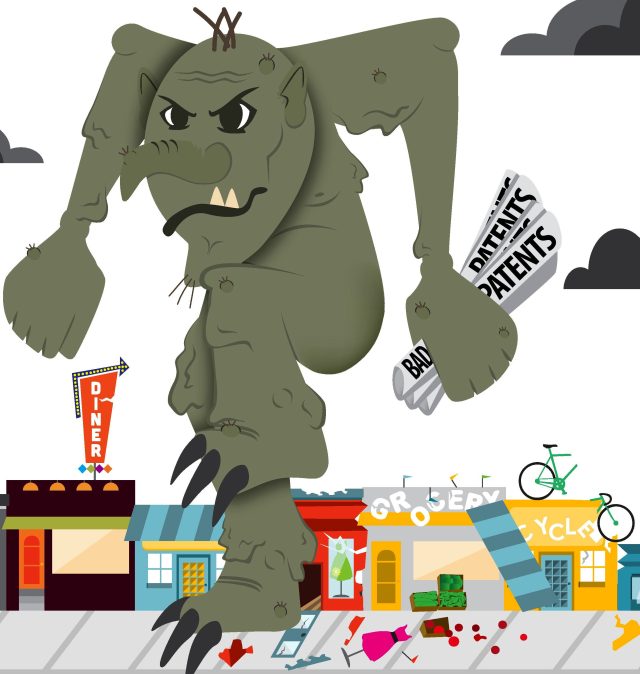 The patent troll that demanded money from "Webtech," a Vermont website developer (name changed), was just doing business in the same way trolls have for more than a decade now. Patent trolls typically buy up old patents that can arguably be interpreted to cover new technology. They assert these patents, demanding money in exchange for a promise not to sue. For example, one outfit has demanded $1,000 per employee from hundreds or thousands of companies that use document scanners attached to networks.  
But that troll may have gone one step too far. This wasn't Webtech's first patent assertion letter—the company had received seven over the last two years—but this one was too much. The patent accusations consumed a large amount of management time. Also, Webtech had lost two contracts each worth a million dollars because its customers wanted to be protected against patent suits. Because patent litigation is so expensive, Webtech could not afford to indemnify them.
So Webtech and several other small Vermont companies fought back. After consulting lawyer Peter Kunin, they formed an informal group to lobby politicians for better protection against patent trolls last year. This May, the Vermont state legislature unanimously passed a bill that provides new tools to fight trolls under state consumer protection laws. Vermont Governor Peter Shumlin signed the bill into law, and William Sorrell, the Vermont Attorney General, sued a patent troll the same day for engaging in "unfair and deceptive acts." The Vermont coalition also met with their senator, Patrick Leahy (D), Chairman of the Senate Judiciary Committee, to discuss patent trolls. Now both Leahy and Vermont Representative Peter Welch (D) have co-authored separate legislative proposals in Congress.
Read 15 remaining paragraphs | Comments