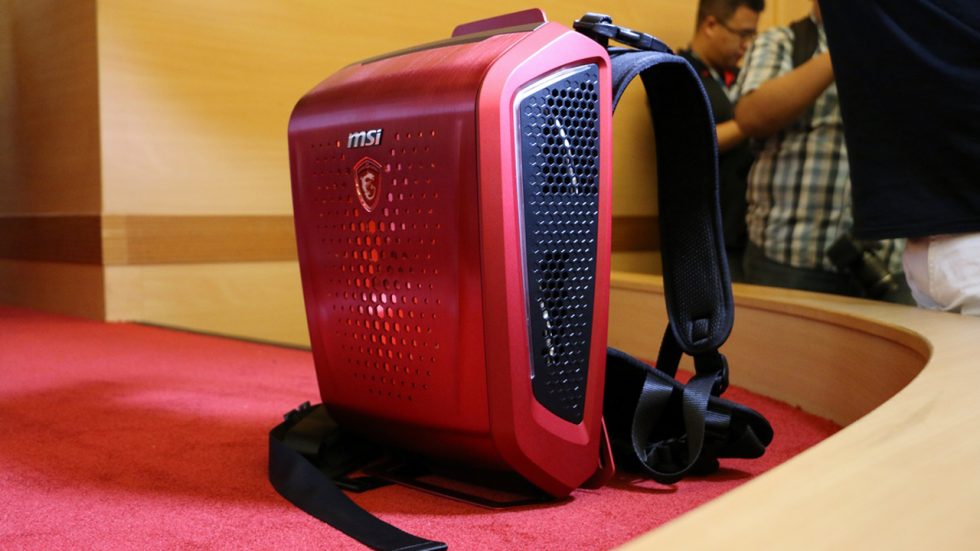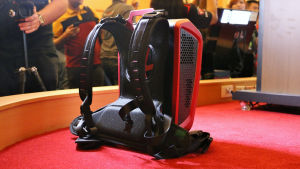 What's the biggest problem with PC-based virtual reality right now? Is it the price? The lack of deep gaming experiences? Or is it that darned cord that keeps you from properly leaping around like a lunatic while playing Space Pirate Trainer? For the PC manufacturers gathered at Computex 2016 in Taiwan, it's very much the latter. Yes, in a weird and quite frankly surprising trend, HP, MSI, Gigabyte, and Zotac are all showing off backpack-based PCs for free-to-roam VR gaming.
Now, I know what you're thinking, and yes, you could just pick up a powerful gaming laptop—one of those GTX 980-based ones should do the trick—stick some shoulder straps on it, and call it a day. Indeed, that's precisely what Gigabyte did with its Aorus X7 DT laptop earlier this year, creating a custom holster for lugging the huge 17.3-inch, 3.44kg (7.6lb) device around. But this brings with it some issues, namely that a laptop's cooling system isn't really designed for being used in a backpack. That's not to the mention that, at least in the case of the Aorus, gaming laptops have terrible battery life.
MSI claims to have solved these problems with its Backpack PC, a wonderfully garish system that packs a 6th-gen (Skylake) Core i7 Intel processor, Nvidia GTX 980 GPU, and a battery rated for up to 90 minutes of gaming into a bright red LED-lit backpack. Weighing in at around 5kg (12lb), the Backpack PC isn't exactly light, but it does offer niceties such as being fully upgradeable (MSI is planning to bump up the GPU to a GTX 1080 in later versions), as well as a user replaceable battery. Ports are mounted at the top of the backpack for hooking up a VR headset (there's a power socket for the Vive's breakout box), and you can use the system as an odd-looking desktop PC too.