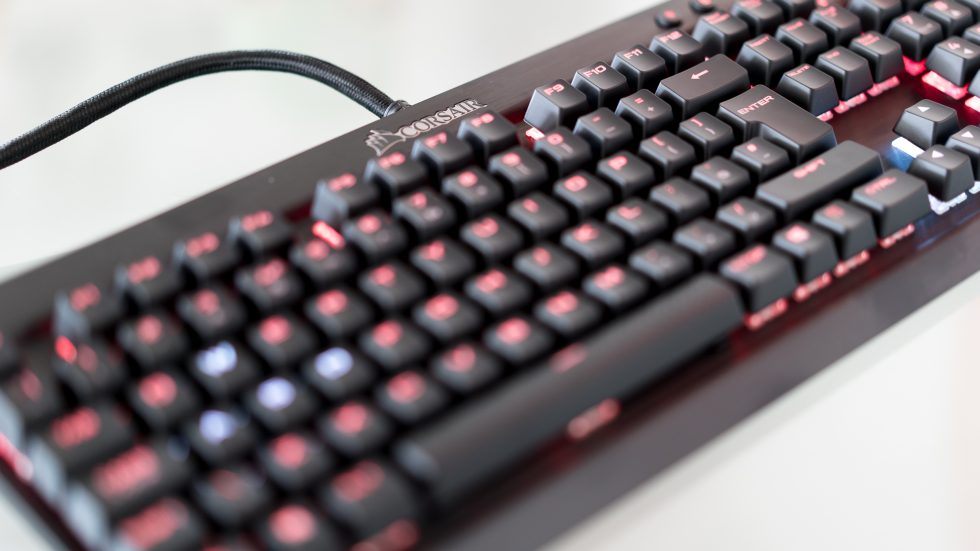 Part of the reason, if not the reason people buy mechanical keyboards from the likes of Corsair and Das Keyboard is for that sweet, sweet extended key travel. The mushy membrane keyboards included with most desktops and the cursory chicklet keyboards of laptops simply don't have the depth of key travel and tactile feedback that rapid fire typists and gamers demand. If you fall into either of those camps, I'd urge you to give a mechanical keyboard a try—it really does make a world of difference.
Weirdly, though, Corsair thinks that the key travel of a good mechanical switch is a little too high for the most l33t of gamers—they might even be losing precious e-sports dollars because of it. Enter the K70 and K65 Rapidfire keyboards, which are kitted out with the all-new mechanical Cherry MX Speed switch. The MX Speed boasts an actuation distance—that is, the point at which its switch is activated—of just 1.2mm and a light 45g actuation force. By contrast, my mechanical switch of choice, the Cherry MX Brown, has a much larger 2mm actuation distance and 55g actuation force. The idea is to give an advantage to e-sports players by shaving off precious milliseconds (microseconds?) from each keystroke.
Now, I know what you're thinking, and no, if you're not into your mechanical keyboards, it's doubtful you'll be able to tell the difference between an actuation distance of 2mm and 1.2mm. Hell, even if you are, the difference is subtle. But, there is a difference, and I'm not so sure it's one I like. Side-by-side with a Cherry MX Brown keyboard, the Rapidfire's keys aren't as comfortable to type on. There's no discernible bump or click—one of the key selling points of many mechanical switches that helps identify when a key has been pressed—and the shallower travel makes it far easier to bottom out when typing.