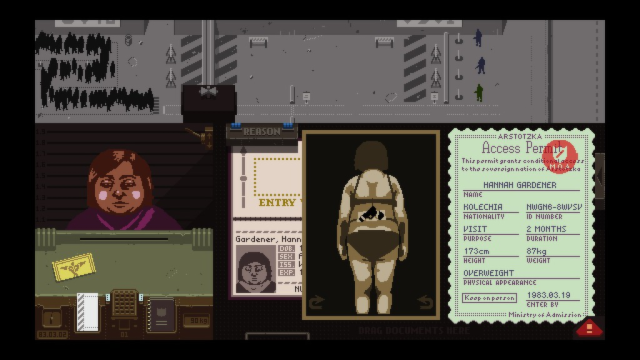 I have so many documents to review in my small booth today. Maps, lists, document guides, daily news reports, photo galleries. It can feel pretty cramped in here. Maybe a sip of coffee will help me relax and get on with it. Slurp. Mmm.
OK, here's the first victim of the day. You'd think someone who waited all night at the border would have noticed his passport number doesn't match his entry visa number! Idiot. Lemme warm up the ol' "DENY" stamp. KA-THUNK! Next! Slurrrrp.
Hmm. Your documents are all in order, ma'am. You're visiting Arstotzkan for… two weeks, is it? No problem. KA-THUNK! Glory to Arstotzkan! Next! Slurrrp.
It's easy to fall into a grind here at the Arstotzkan border. There's almost a meditative quality to protecting our borders from the endless procession of people and documents that come through every day. You sometimes forget that these people have lives… until they try to slip revolutionary propaganda through the window slip. Or an occasional wimp cries as he's detained for fraudulent documents. Or some jerk blows himself up right next to my booth. What, does he expect me to change the way of the world from within this tiny booth?
Read 19 remaining paragraphs | Comments