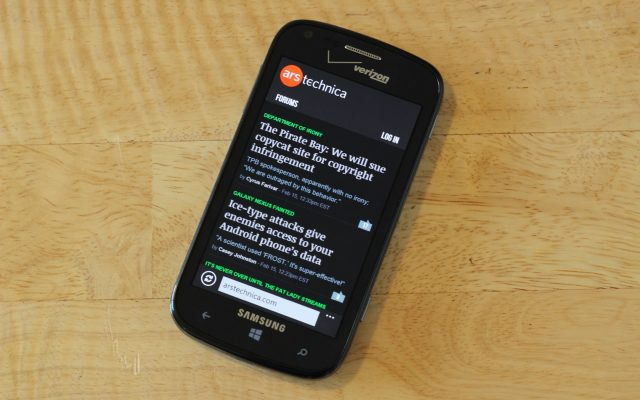 Here at Ars we naturally spend a lot of time covering high-end, cutting-edge smartphones. You guys tend to be technology enthusiasts, and technology enthusiasts are generally more excited about newer, bigger, faster, higher-specced phones than you are by middle-of-the-road or low-end stuff.
Still, the free-with-contract market segment is important, especially for people moving from a feature phone to a smartphone for the first time. Even though the $199 or more that you'd drop on a high-end phone pales in comparison to the thousands of dollars you'll pay for voice, texts, and data over the course of a standard two-year smartphone contract, it might be the case that someone living from paycheck to paycheck has the cash to pay for a smartphone plan every month but can't spend a few hundred dollars up-front for hardware to use with it. There's also, of course, something psychologically alluring about a price tag of $0, even if you have to make some compromises to get it—either way, it's a part of the market I'd like to start paying a little more attention to.
Samsung's ATIV Odyssey, a new midrange phone running Microsoft's Windows Phone 8, isn't quite free-with-contract, but as of this writing you can buy it with a two-year Verizon Wireless contract for a mere $9.99. It obviously gives things up compared to higher-end Windows phones like HTC's Windows Phone 8X, Nokia's Lumia 920, or Samsung's own ATIV S handset, but for people looking to get into the smartphone (or Windows Phone) game for cheap, how does it stack up?
Read 30 remaining paragraphs | Comments